Phoenix Personal Injury Attorney
A personal injury can put your life on pause. You might have a temporary or permanent disability, medical treatments, chronic pain, property damages, and lost time at work because of a serious accident in Phoenix, Arizona. A personal injury lawyer may be able to help you get your life back on track. Legal representation could enable you to go up against the defendant that caused your injury in pursuit of justice and compensation. One or more parties might be accountable for your accident and injury.
If you or a loved one has an injury, contact the experienced Phoenix personal injury lawyers at Begam Marks & Traulsen, P.A. to schedule a free legal consultation. Our injury attorneys can review your case for free at our conveniently located local law firm. We also take meetings over the phone or virtually if desired. You could be eligible for financial recovery to make up for the losses associated with your recent accident, whether you were in a car accident, a slip and fall, or another type of accident in Phoenix. Call (602) 254-6071 today to learn more about your case from our Phoenix personal injury attorneys.
Why Choose Our Personal Injury Lawyers?
We have been representing accident victims with serious injuries since 1957. Our personal injury lawyers have the experience you need for strong representation.
We have collected millions of dollars in settlements and verdicts on behalf of our clients over the years. Our team can take your Phoenix personal injury case to trial, if necessary.
We are a personal injury law firm clients trust with their most complicated claims. Our track record, reviews and testimonials speak for themselves.
We are committed to our clients' well-being, including how we charge fees. We handle all Phoenix personal injury claims on a contingency fee basis.
Personal Injury Resources:
Do You Need a Phoenix Personal Injury Lawyer?
It is not easy to convince an insurance company to accept your case or treat you fairly as a claimant. Whether you need to file a claim with your own insurance company or that of an at-fault party after an accident in Phoenix, expect to encounter roadblocks such as tight deadlines, strict filing requirements, fine print in the policy, coverage limits and insurance bad faith tactics. Insurance bad faith can refer to issues such as the insurance company denying a claim without a valid reason, undervaluing your damages or unfairly delaying your payout.
Hiring an experienced Phoenix personal injury lawyer allows you to protect yourself against common methods insurance claims adjusters use to try to save carriers money. Your lawyer can take over correspondence with an insurance company on your behalf, meet all deadlines and fulfill all requirements to help ensure the validity of your claim while you focus on getting medical attention. Your lawyer can then enter into settlement negotiations with an adjuster for you, arguing for maximum results for your damages. You can rest assured your claim is in good hands when you hire an injury lawyer to defend your rights.
What are Arizona's Personal Injury Laws?
The personal injury practice area comes with dozens of laws and statutes you will need to know to bring a successful case. When you hire a lawyer from Begam Marks & Traulsen, P.A. in Phoenix, he or she will guide you through the laws related to your individual case. You will be able to focus on healing while your lawyer takes care of the legal side of the personal injury claim on your behalf.
The Arizona statutes of limitations are some of the most important laws to know as a potential personal injury claimant. The courts are not flexible with the deadline to file a claim in most cases. If you miss your time limit, you will generally lose your right to seek compensation. Contact a lawyer at Begam Marks & Traulsen, P.A. in Phoenix as soon as possible to make sure you do not miss your statute of limitations. As your attorneys, we can explain all the laws related to your claim in more detail.
How Much Does a Personal Injury Lawyer Cost?
Many accident victims in Arizona fail to acquire the legal assistance and representation they need due to concerns over the costs of a personal injury lawyer. At Begam Marks & Traulsen, P.A., we aim to put these fears to rest. We offer free no-obligation consultations and only get paid if you get paid. We can advance the costs of your claim so you can rest easy even as the costs of your case mount.
As our client, you will only pay our Phoenix personal injury lawyers if we recover financial compensation on your behalf. We will assess our fees as a pre-agreed upon percentage of your award won – nothing more, nothing less. If we do achieve results for your injury claim, we will bill the settlement or verdict won rather than charging you out of pocket. That way, we guarantee you can afford your personal injury attorney, regardless of your personal financial situation.
We know how financially devastating a serious accident and injury can be for a victim. We wish to relieve your financial burden, not make matters worse by charging hefty retainer fees or a high hourly rate. Our contingency fee payment arrangement means if we do not win financial compensation on your behalf, you will owe us nothing for the services we provided. You will know upfront what our legal fees will cost you if we win your case, with no hidden fees or assessments.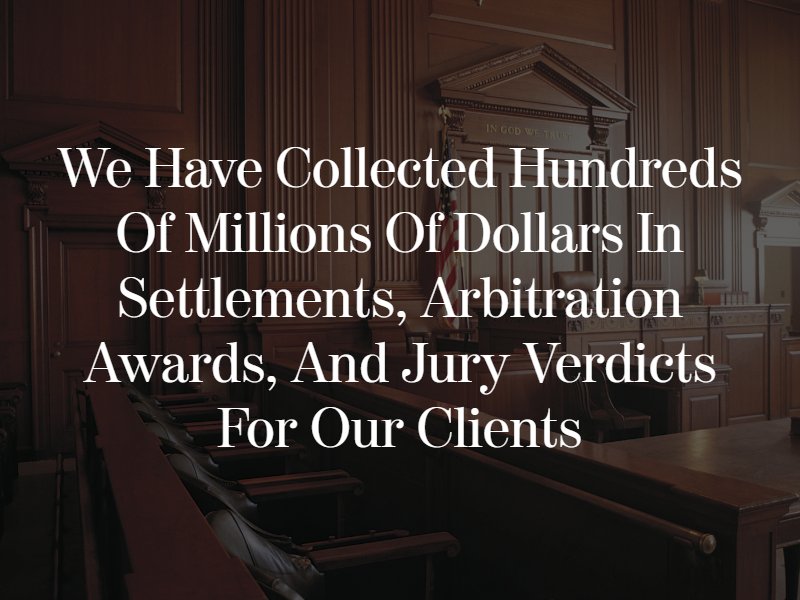 What Are Our Practice Areas?
As Phoenix personal injury lawyers with decades of legal experience, we have the ability to take a wide range of personal injury cases. After any type of accident that gives you an injury, such as an auto accident or a brain injury, or takes the life of a loved one, discuss the possibility of bringing a civil claim with our experienced and knowledgeable attorneys. In our more than 60 years of service in the Phoenix area, our legal team has helped clients protect their rights and obtain favorable results during many different types of personal injury claims.f
Catastrophic injuries
Pedestrian accidents
Premises liability
Product liability
Slip and falls
Traumatic Brain Injuries
This list does not include every type of case we accept. Our full list of practice areas is extensive and always growing. If you are curious whether you have a case, do not hesitate to call (602) 254-6071 to ask our injury lawyers about your situation directly. We will listen to your accident story, ask questions and let you know if we believe you have the elements of a personal injury claim. If so, we may offer our representation to help you and your family fight for fair compensation for your damages.
What Compensation Is Available in Arizona?
At Begam Marks & Traulsen, P.A., our Phoenix personal injury attorneys entered this practice to help people. Our law firm's number one goal is always to serve the best interests of our clients, answering their questions and meeting their concerns with proactive and tailored solutions. We recognize how important a positive settlement or verdict can be for an injured accident victim. We work hard to achieve the best possible results for each client we represent.
The resolutions we obtain for clients are more than just financial, however; we also focus on how to meet their physical and emotional needs. Your recent accident and injury may entitle you to receive compensation for many different types of damages.
Medical treatment bills and expenses. Past and future health care expenses, including live-in care, procedures, medications, specialists, x-rays disability-related costs, and any additional medical bills.
Out-of-pocket costs. Any money you paid out of pocket, such as travel expenses, attorney's fees, expert fees and court costs.
Lost wages. An estimate of past, present and future lost earnings due to your accident and related injuries, including temporary or permanent disabilities.
Pain and suffering. The nonphysical losses associated with your accident, such as emotional distress, mental anguish, lost enjoyment of life and loss of consortium.
Property damages. An award to cover the costs of repairing your damaged motor vehicle, replacing a totaled vehicle or repairing other types of damaged property.
Punitive damages. An exemplary award some judges in Phoenix may grant to punish a defendant for gross negligence, maliciousness or intentional wrongdoing.
The value of your claim is contingent upon many different factors. We have obtained results for clients that enter into the six- and seven-figure range, collecting more than $178 million total in the last 15 years alone. Factors that could affect the worth of your case include the extent of your injuries, whether you will have to live with a disability, your age, your health prior to the accident, your income and the actions of the defendant. Every case's value is unique.

As your Phoenix personal injury lawyers, we will review your case for signs of your losses and damages. We can collect evidence supporting your economic and noneconomic damages to prove them to an insurance claims adjuster, or a judge or jury during an injury trial. Then, we will use aggressive and proven techniques to fight for maximum compensation for you and your family. Find out what your personal injury claim is worth during a free consultation with our attorneys today.
Do I Have a Personal Injury Case?
During your free initial case overview in Phoenix, we will assess your claim using all the known facts and information, such as where your accident or medical malpractice incident occurred, how you believe it happened, who might be responsible and what injuries you sustained. We will search for the elements necessary to bring a personal injury claim on your behalf. Most claims based on negligence require the plaintiff's side of the case to prove four main elements.
The defendant had a duty to exercise reasonable care in preventing your injury.
The defendant negligently or intentionally failed to fulfill his or her duty of care.
A connection exists between the defendant's breach of duty and your accident or injury.
The breach of duty gave you compensable losses or damages.
It is possible, however, to have a claim in Arizona with a lesser burden of proof. While it will still be your lawyer's responsibility to prove the defendant's fault for your damages, you may not have to establish negligence if you have a strict liability claim. A product liability claim, for example, may not require you to prove negligence if your lawyer can show the item in question contained a defect and that this is why you have injuries. Our Phoenix personal injury attorneys can help you understand whether you have a case based on its unique facts during a free case evaluation.
Contact a Phoenix Personal Injury Lawyer Today
You are not alone as the victim of a personal injury accident in Phoenix, Arizona. You are not the only person who has been in your position: seriously injured, overwhelmed and confused as to your legal rights after a devastating accident. Help is available. At Begam Marks & Traulsen, P.A., our injury lawyers take pride in helping the injured in our community. We offer tailored legal representation during injury settlement negotiations with insurance companies as well as personal injury trials and wrongful death trials in Maricopa County.
Start your civil case with a no obligation consultation at our local law office. We are located at 11201 N. Tatum Blvd., Suite #110 in Phoenix, AZ. Find out if you have grounds for a case by sending us a brief description of your accident and injury through our online consultation form, or by calling (602) 254-6071 to speak to an experienced Phoenix personal injury lawyer directly. We may be able to help you and your family achieve justice and maximum compensation for your injuries. Contact us today.
Client Review: "Stan Marks and all of the staff at Begam Marks and Traulsen were professional, efficient and so very caring during a very difficult time. They worked hard on my case and achieved an outcome that surpassed any expectations." -Amber